Hello, and welcome to day eight of Fuzzy's #29in29 challenge (pic a day for 29 days) of the #29in29 challenge. Today's post doesn't feature any motorcycle pictures, but it is most definitely motorcycle-related.
One obstacle women on motorcycles face is where to stash the purse. Especially when you are first starting out. How many first motorcycles have saddlebags, top cases, panniers, etc.? Not many. And most tank bags, which seem to be the first addition, just aren't big enough for even your smaller pocketbook.
You guys may not think this is a weighty issue, but the girls will get it. Even if you're not a girlie-girl (I am so NOT a girlie girl), there are just times when you need that bag. Pockets will not always suffice.
It was back before I got a bike with storage when that was a concern. I remember thinking, even if I did somehow strap my purse on, if I got into a wreck, it would almost surely become unattached. So if I was discovered by some stranger, no one who know how to identify me because there'd be no ID anywhere.
I started thinking about the lack of ID thing again when I started walking the dogs. If something happened while I was out and about, no one would know how to contact my Hubby.
That's where the
Road ID
came in. I saw an ad for it on a message board or maybe in one of the bike magazines. It's basically a fancy identification bracelet. I opted for the dog tag model.
You can probably get dog tags cheaper elsewhere, but they have lots of other cool stuff to choose from, too. There are a variety of different types of bracelets. They even have cool
reflective shoelaces
, which aren't real practical for most styles of riding boots. I may need to buy some of these
High-Viz Stickpaks
, though.
Now, I just have to remember to put my collar on before we leave for our walk...
This blog will probably always be a work in progress. By that I just mean constantly evolving. It is still relatively young. Especially when you consider that I didn't do much at all with it last year.
When I first started this blog, I was going to make it more business-like. Less about me and more about motorcycles, riding, ride routes, etc. But then I realized that was pretty boring. People actually said I should make it more personal. So I did.
Speaking of personal, I figure it's about time I introduce you to my girls. Not
those
girls. The bitches.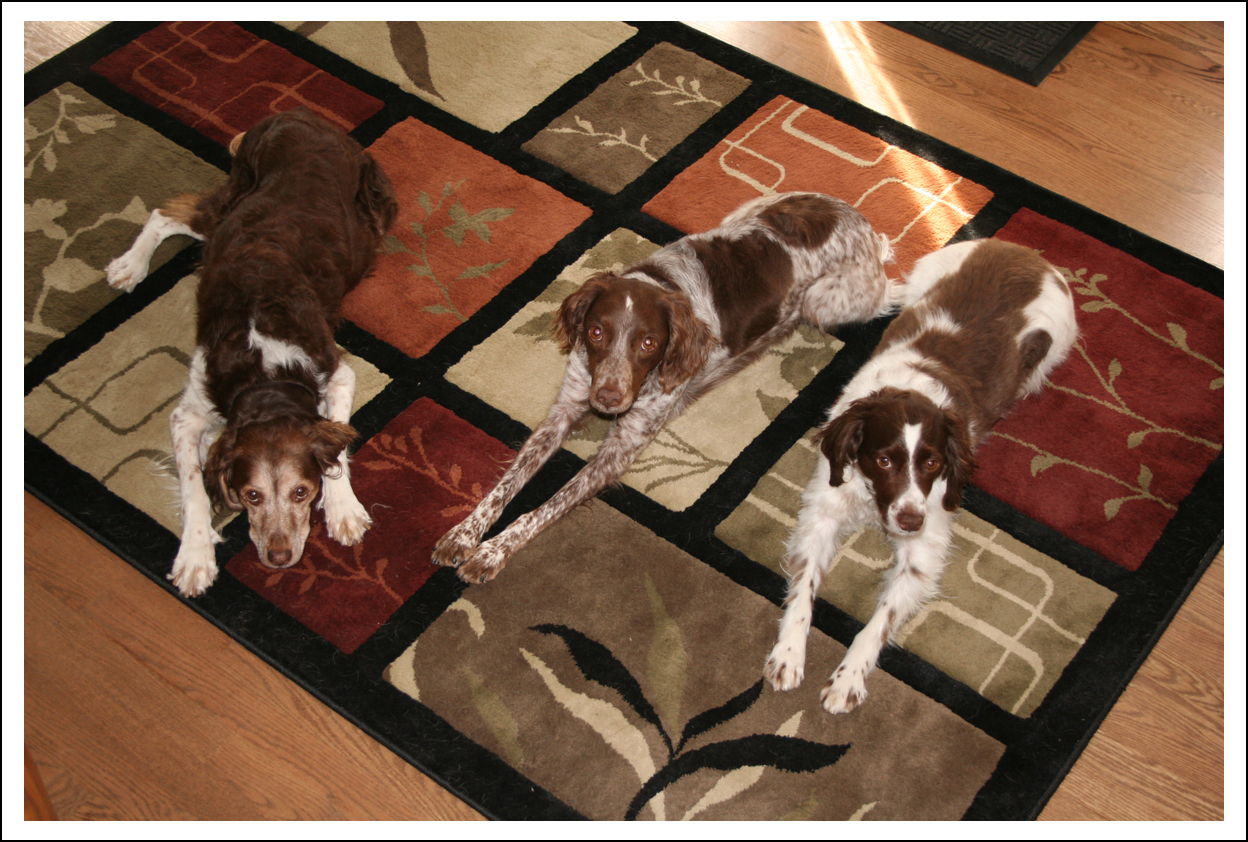 L-R, Meg, K, and Belle
After revealing the back of their heads yesterday, it occurred to me that I may not have properly introduced them here. That's my pack. They're all three rescued Brittanys. Their birthdays are all in June. This year, Meg (the old girl) will be 13, K (the middle girl) will be 6, and Belle (the little girl) will be 5.
They're lots of fun. All the kids are grown, so we need to have some sort of entertainment around!
Click the #29in29 tag today (the purple circle with words in it) and you'll jump to Fuzzy's blog post that has a link to all of the challenge participants. Go ahead, check them out. I triple-dog-dare you.