This year marked the fifth year for International Female Ride Day. I only heard about it last year for the first time, but wasn't able to participate. This year, as soon as I saw the
MOTORESS
post announcing the date, I submitted my request for the day off from work. Because this year, I was determined to ride. (I work from home, so there is no commute.)
Kathy (aka ToadMama) ready to ride.
I even made Hubby come outside and take a picture of me before I set out.
Initially, I toyed with the idea of getting a group ride together. But the closer the date got, I realized I probably wasn't prepared to lead a group ride. I mean, sure I know tons of great routes, but I don't have any experience leading large groups. And riding in groups isn't as easy as one would think. If you're going to ride in groups, you really should know the people you are riding with. You need to make sure everyone has about the same skill level and experience so you can plan accordingly.
In other words, leading a group means assuming a certain level of responsibility. And the more I thought about it, the more I realized I really just wanted to get out there and ride.
International Female Ride Day is a campaign for women motorcyclists with the sole purpose of highlighting and profiling the female motorcycle rider. Its mission is that of building and underlining broad-spectrum (and public) awareness of female motorcyclists while simultaneously encouraging other women to take up the activity; demonstrating the ease of the activity. (The image shown on the left is the flyer that was taped to my windscreen.)
The next big step was deciding where to ride to. Our bikes are still at the Maryland house, which is where they'll stay until we both get our 600-mile service taken care of. Then we'll move them to West Virginia. I didn't just want to ride around Maryland (I live in the Baltimore/Washington suburbs). Then last week, while attending my uncle's funeral in Elizabethtown, Pennsylvania, where my father grew up, I realized it had been many years since I'd seen that area. And the last time I did see it, was through the eyes of a kid. And most kids don't really care about stuff like family history. So I figured that would be a great area to go and explore.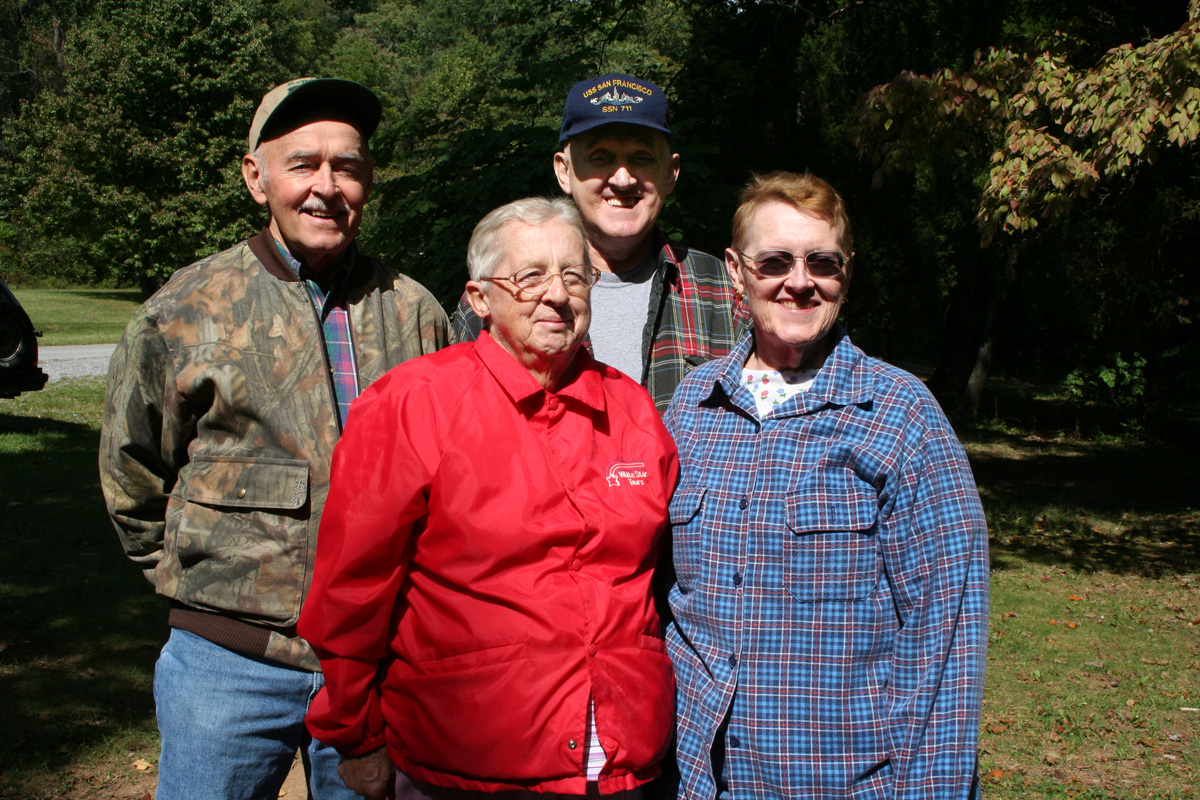 In this photo, clockwise from left, are my Uncle Bob (now deceased), my Dad, my Aunt Bertha, and my Aunt Pearl. This is just four of the nine total siblings in that family. Jay, Dad's other brother, passed away years prior. There are four other sisters, but they don't participate much in family functions. Most of Dad's family are still living in the Lancaster, Pennsylvania area. Two of Bob's three kids (my cousins) have motorcycles. At the funeral, we all agreed we should get together and ride. That's something I hope we all make happen this year. It's very sad that we don't do a better job maintaining those family connections.
Anyway... my IFRD destination was Elizabethtown, Pennsylvania. The plan was to just explore, stopping at a few key spots, like the cemetery where my grandparents are buried and going to see the farm where my Dad grew up. I was going to pop in and surprise my Aunt Bertha with a quick visit. I was also going to pop in on Aunt Pearl, who lives very close to the family farm.
Of course, I didn't know where most of that stuff is, so I called my Dad. If I'd called Aunt Bertha, it would've ruined the surprise. I didn't even think about telling Dad not to say anything. So what does he do? He calls Aunt Bertha. Not only was she not surprised, when I got to her house she insisted that we take her car (with her driving) to see the things I wanted to see. That totally made sense, of course, it just took a bit longer than anticipated. But we had a nice visit.
She suggested we stop and pick up Aunt Pearl on the way. When I said I was planning on surprising her anyway, she said, "Well, I told her you were coming." So much for secret surprises. (Though I did not tell anyone not to say anything, I didn't think the word would spread among the three of them so quickly!)
Here are a few pictures from the trip.
Pequea Pinnacle (pronounced like Peckway)
From this
overlook
, you look north up the Susquehanna River in south-central Pennsylvania. Down the river (out of the frame on the left) is the Holtwood hydroelectric power plant and dam. That's why there's a "lake" below. The Susquehanna River watershed is fed by waterways throughout a large portion of Pennsylvania and even a bit of New York.
Aunt Pearl with her favorite bunny, Buttercup.
Aunt Bertha feeding Aunt Pearl's chickens.
Buttercup
Farmhouse where Dad and his siblings spent their early years.
Now I know when I was a kid we drove past this place numerous times. And my parents probably said, "There's the house where your Dad grew up." But I don't remember.
Old stone barn on the family farm.
How cool would it be to have an old stone farmhouse and barn? VERY cool.
This place really is right around the corner from Aunt Pearl's house. And not far from their, is the cemetery where my grandparents are buried.
This cemetery is at
Risser's Mennonite Church
, which is located just outside of Elizabethtown (the locals call it E-town).
Also near the cemetery is this schoolhouse where Dad and some (or perhaps all) of his siblings went to primary school.
Old schoolhouse.
I was supposed to make a couple of other stops, too. But by the time we got back to Aunt Bertha's house, it was almost 3:00. The weather forecasters had predicted rain and/or thunderstorms to start around 7:00. The sky was starting to look a bit ominous, so I decided to start heading home.
But first, I stopped for lunch. I'd mapped out a circuitous route through the countryside, but since the clouds were rolling in, I abbreviated it a bit. I cut it even short when, about 40 minutes out I saw a thunderhead with THREE bolts of lightning.
Last few rays of sunshine.
The sun looked pretty cool shining down through the clouds, so I stopped for this quick end-of-the-ride-day photo op.
This next shot shows the storm clouds rolling in.
Stormy skies.
I made it home before the rain. Yay! I'm glad, too, because last night we has some crazy thunderstorms. I've never felt thunder like that before. I am not exaggerating when I say it felt like we were experiencing an earthquake. Shannon, who was at her part-time job at the mall, said the exact same thing.
Did you do anything for IFRD?