I was doing a bit of tidying up last week and came across some old travel brochures and this postcard.
That discovery did two things. First, it brought back memories of our trip to North Carolina in 2007. On one hand it doesn't seem like it's been that long. But on the other hand, that was our first big trip with me on my 2007 V-Star 1300. You know, the one I just got rid of?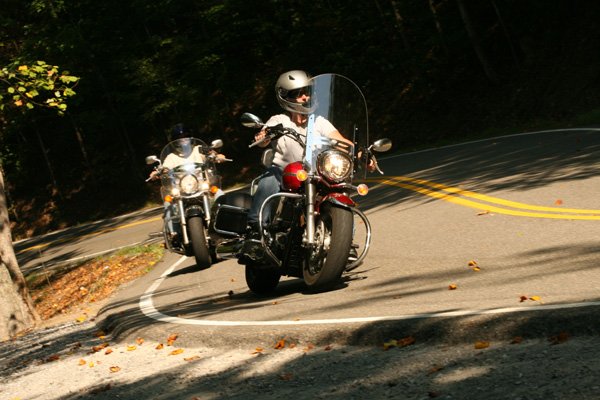 That was a great trip. We headed south through Maryland then into and across Virginia to Lynchburg, which is where we picked up the Blue Ridge Parkway. We took our time, stopping for the night in southern Virginia. We ended up at a cute little rental cabin near Robbinsville, North Carolina. We stayed there for a few days while we explored the area.
The second thing that postcard did was it got me thinking about where I want to go
this
year. You know, when the weather finally breaks. (We ran into snow on our way home from the WV place today!)
There won't be any long bike trips for us this year. But only because some very good friends from Belgium will be spending two weeks with us here in the US doing a whirlwind tour of a few national parks out west. We are really, really looking forward to that trip! Even if no motorcycles are involved.
We'll just have to do some weekend trips. I want to go back down through southern West Virginia. There are an awful lot of roads down there yet to explore. I'd also like to head north into Pennsylvania and do a bit of exploring in Central and Northwestern PA. There's also a road that runs along the Delaware River near Frenchtown, New Jersey that I want to do on the bikes. (Actually, I want to explore that whole area around Allentown, PA and that section of New Jersey.) We've never gone to Natural Bridge, Virginia. There are quite a few state parks in West Virginia we've never seen. Maybe we can even spend a weekend at one or two of them. We want to ride WV-20 south from Buckhannon again, too. We did it last year, but it was cold and rainy and we didn't get to enjoy it nearly as much as we should have.
We don't always go places, sometimes (more often than not) we just ride to ride. For the sheer joy of it. Do you have a first destination in mind for 2011? Or are you more of a local, ride for the fun of it type?