I got an interesting package in the mail yesterday. Hubby got one, too.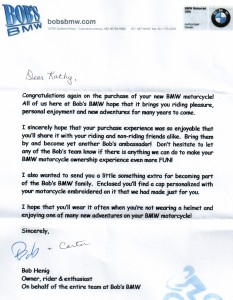 The package contained a personalized letter (thumbnail image shown at left) and a hat. Not just any hat either. A nice, good-quality hat with an image of
my motorcycle
embroidered on the front. Click on the image and a larger version of the letter should pop up for you to see.
Yes, it's a form letter. But it is hand-addressed and signed. Some effort and thought had to go into ordering the hats, not to mention signing the letter.
That's just one of the little things that make
Bob's BMW
stand out as one of the best customer service experiences I've had in a
long
time. Especially when talking about vehicle purchases. It was so nice to walk away from the experience not feeling even remotely like we'd been screwed in any way.
My Hat
Getting a new vehicle is always exciting, but in my experience the buying process is always unpleasant in one way or another. Car buying has gotten way easier thanks to the Internet. Many new-car dealers will quote you a price via e-mail/website contact form. Not just any price, but their best price because they know you've already done your research. Then you just go into the dealership, test drive your car, get the financing stuff squared away, and off you go. No haggling.
Motorcycle buying has yet to reach that point.
Hubby and I don't care much for most of the motorcycle dealers in this area. The customer service is
horrible
. I'm not talking a one-time bad experience. This goes WAY back to 2000 when Hubby and I bought our first pair of motorcycles.
We're a little backwards in that I was the one who kept pushing for a motorcycle. I don't know how many times we'd be out for Sunday drives and I'd say something like, "This road is nice, but it would be a lot more fun on a motorcycle." Finally, one day I said, "I'm going to go look at motorcycles."
My first stop was a dealership east of Baltimore on US 40 where I'd bought my first motorcycle WAY back when I was 18. Keep in mind, during this visit I was looking at buying
two
motorcycles.
The place wasn't that busy, so the salesmen were all standing around BSing. When I approached to ask some questions, one of the guys reluctantly pulled himself away from his conversation. With obvious disinterest, he addressed a few of my queries. When I walked away from one model to look at another, instead of following me, he went back to the other side of the room to rejoin the conversation. I don't know if it was because I'm a woman, because I had Eric (then 11) with me, or just because he was a horrible salesman, but it pissed me off. If you're that uninterested in talking to me when I am trying to buy something, how will you act afterward when/if I need some help? I scratched that dealer's Glen Burnie location off my list after a similar experience there.
We ended up buying our two Yamaha 650 V-Star Classics at a dealership in Ellicott City. The experience was okay. So okay, in fact, that several years later when it was time for Hubby to trade up for a bigger bike, he bought his Kawasaki Vulcan Nomad at the same place. The first bit of unpleasantness was how they low-balled him on his trade-in. Used bikes lose value way faster than used car, especially used Japanese motorcycles. But still. He never did feel like he was given a fair trade.
That was bad enough. But things got far worse when he started having trouble with the Nomad. I forget exactly what was wrong, but their "service" required removal of his front wheel. On the way home from the shop, Hubby noticed the bike handling funny. Come to find out, they'd failed to tighten the wheel nuts completely. On his FRONT WHEEL. Losing a wheel off a car is bad. Losing a wheel off a motorcycle is catastrophic.
When confronted with the issue, I don't think the dealer admitted fault. Or, if they did, they gave him some lame excuse. They weren't even very apologetic. And it took several trips back there to get the original issue resolved.
When it came time for me to get a bigger bike, I first went to a dealer in Severna Park. I'd already done my research and was pretty sure I knew I wanted the Yamaha V-Star 1300, but I wanted to do a test ride. No dice. It was no surprise, really. A lot of Japanese bike sellers just don't do that, at least not most dealers in the Baltimore metro area. I would've bought the bike anyway, so I told the guy exactly what I wanted and said, "Give me your absolute best price." He wrote everything up at MSRP, handed me the quote, and assured me that was the best he could do. I knew better. And I hate haggling. If the guy was ignorant enough to insult my intelligence in that manner, he didn't want my business. I wasn't getting a great vibe from him anyway.
That's how I ended up buying a motorcycle in Gettysburg, Pennsylvania. I'd rather ride 100 miles to a different state than deal with the bozos I've experienced in this area. Now, I'm sure not all of the people working at those places are like that, but you know what they say about one bad apple. The guy at Rider's Edge Yamaha in Gettsyburg was completely different. He let me take a test ride, treated me with respect, gave me a fair trade, etc. And, no I did not have Hubby along with me to help.
That's why, when we finally decided to get the new BMWs, neither of us were looking forward to the whole buying experience. The first time I visited Bob's BMW in Jessup, I was surprised to see a whole fleet of bikes sitting out front in what a sign announced as the "demo area." Come to find out, Bob's will let you test ride pretty much any current model of BMW motorcycle you want, as often as you want. No strings attached.
Hubby and I knew exactly what we wanted. All the salesman (Carter) really had to do was write it all up. Talk about a motorcycle salesman's dream. In the middle of January, a couple walks in off the street and says, without question, we want to buy two motorcycles.
Next came the trade-in negotiations. Again, we had two used Japanese motorcycles. Mine may have had 12,200 miles on it, but except for one scratch on the windshield, it was literally spotless. Hubby's had over 48,000 miles. They were already giving us a great deal on the bikes (we bought 2010 models). So we figured we'd get screwed on the trade-ins to make up for it.
Ashton, the Sales Manager, was responsible for assessing the trade-in values. He obviously spent a good deal of time doing research and then explaining his findings to us. He listened when we corrected him (I'd given him the wrong year for my bike) and even ended up increasing the values a bit when we pushed back. It was all very professional, very polite, and, given what we know about used motorcycle prices, very fair. Imagine that.
The day we took our old bikes in for inspection, I was quite delighted to see a motorcycle sitting there in Bob's showroom with my name on it. Spelled correctly, too. (You'd be surprised how many people have trouble with Kirkpatrick.)
Click image to see larger version.
Arranging the financing/signing the paperwork went without a hitch, too (thanks, Tim). No high-pressure add-on sales pitches. He did make us aware of a variety of options, but if I said "no" the subject was dropped.
When it came time for us to go get the bikes (we had to wait for the snow to melt and temps to climb above freezing), we were told that, before we left, Bob wanted to make sure he had a chance to meet us. It isn't every day that a husband and wife come in and buy identical motorcycles at the same time. They wanted to take a picture of us for their website, too.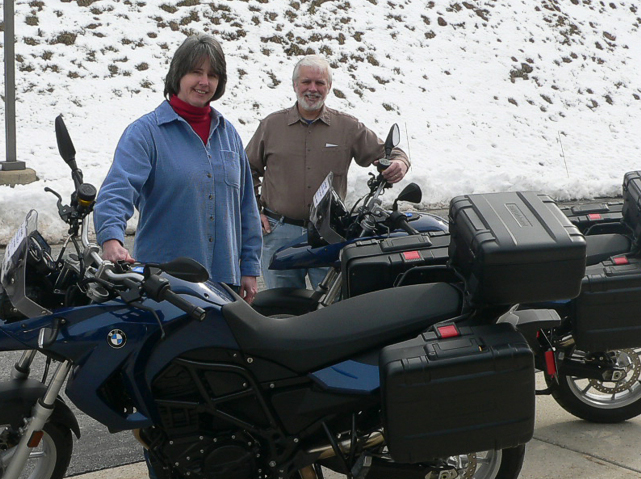 That camera angle makes me look huge!
Bob didn't just wave and say, "Hey." He introduced himself and presented us with a pen, which he said was just a small token to remind us that we have a lifetime service guarantee, his door is always open to customers, inviting us to come back and hang out, etc. It was cool. It actually felt like he really meant what he said.
It's that kind of little stuff that makes customers like us want to come back. We'd already bought the bikes. It was a done deal. The keys were in our hands. He didn't have to talk to us. He actually
wanted
to.
Has the owner of a car dealership EVER said thanks to you? And we're not in a small town. We're smack in the middle of the Baltimore-Washington Metropolitan Area!
Speaking of little stuff, Bob's really does encourage riders to just come and hang out. I was tickled to see their womens restroom stocked with free feminine hygiene products, hairspray, etc. And it was very clean, too. Women LOVE clean bathrooms especially when there are emergency supplies at hand.
Those may seem like little things... a pen, picture for their website, and a hat. But it's what those things represent that is important. Service. We felt like we were treated fairly. Like they appreciated our business. Heck, Bob himself told us to stop by and say hi any time. THAT is how to cement a business relationship.